This exhibition concept is meant to be seen as a proposal that despite beeing quite concrete in some parts, it's flexible in dimensions and can be adjusted to several target groups. 
The photo part can be shown without much explanation, giving the visitor the chance to get an idea about central asian landscape, culture and daily life. The theoretical part contains a lot of text that needs time to be read – but as it is structured quite clearly, visitors can focus on the themes they are interested in. Huge text displays introduce to the main themes, medium sized text displays give necessary information about the countries involved, Info posts offer further information on special aspects for those who want to learn more.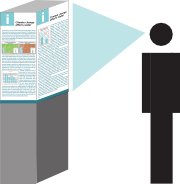 The concept shows a possibility of structuring the material that has been used for the book and the film.
Size and colour of text displays have been chosen regarding the amount of text as well as the complexity of the content, and, of course, the size of the exhibition space.
Concerning the photo part, every region has its own space in this model. Number and size of photographs can be adjusted to any exhibition space. 
As room nr 7 is much larger than the other ones, some more elements are incorporated: A Video box where the long version of the film can be shown, 2 screens/monitors with earphones, tables with books / information on the theme, an "Agenda"- display that encourages the visitor to write down the questions / thinkings he/she has concerning the theme. At the wall of the video box some historical photos illustrate the incredible change the landscape at the Aral Sea has suffered. 10 Thematic maps show that process in a striking way. In the center of the big space a huge fishernet hanging from the ceiling symbolizes the problem the Aral Sea is dealing with.
A PRESENTATION IN 7 ROOMS
The concept for the exhibition is flexible and can be adjusted in size and content. The analytical part, including the films can be presented in two rooms, for the photo part it depends on the amount of photos chosen for the show. 
If both parts of the exhibition should be shown, a minimum of three rooms is necessary, but 7 rooms would be ideal to give the photos enough space and to separate the 5 regions. This concept shows, as a possible example, how the exhibition could be arranged .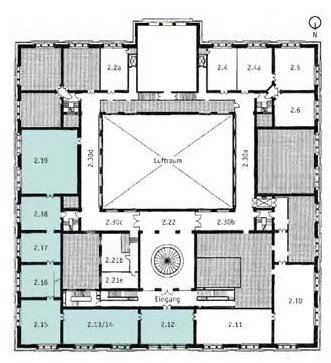 SPACE CONCEPT
0

1 huge display: 3.1.1. introduction

Exhibition title (plot on wall)

1

2 huge displays: 3.1.2, 3.1.4

Map of the Region

2

1 huge display: 3.1.3, 3.1.5

6 medium sized displays about the countries involved

12 bilingual info posts

3 4 5 6

huge display including map about each region in each room

35–45 photos per room, (25-40 medium, 5-10 big format)

7

2 huge displays: 3.1.6, 3.1.7

video box, screens for short films

table with books and information
See our PDFs for more information: